OUR DADS
TEDDY…SMALL MEDIUM…30LBS CARAMEL/WHITE PARTI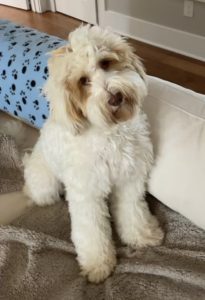 PONGO…MINIATURE 22LBS… CARAMEL/WHITE PARTI
N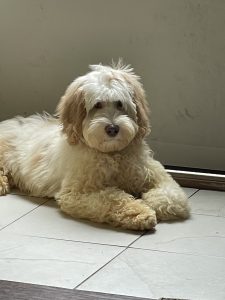 WINSTON…MEDIUM 30 LBS…CHOCOLATE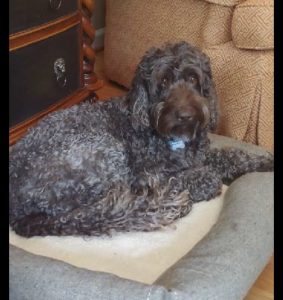 UPCOMING STUD…GIBBS…MINIATURE…20lbs…RED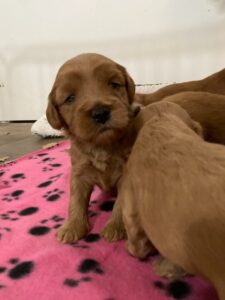 _________________________________________________________________________
OUR RETIRED BOYS
\Rainmaker's Sir Bentley or Danmar…ALAA reg. #ILAD-P-01JUN02-007
AKA: "Bentley" Bentley is no longer available  GONE BUT NEVER FORGOTTEN

Bentley is a cream Standard Poodle of exceptional temperament, heath and conformation. He has an impressive as well as extensive pedigree. He is extremely intelligent and has a very eager to please personality, traits he deffinitely passes on to his offspring. Bentley is not only our main stud but is used all over the US through AI. He loves everyone and is always the center of attraction where ever he goes…..and knows it, he wears his name well…..SIR BENTLEY! Besides the fact we have to remind him as well as ourselves he is not human, he is everything a 4 legged companion should be. Always ready to play, knows no strangers no matter young or old. Not an aggressive bone in his body. He loves the water, fetching, and stops at nothing when retrieving. He carries the poise, and grace of the Poodle at the same time remaining a fun loving playful addition to our family. His coat is a double fleece Champion coat unlike most of the very tight curl Poodles are known for, producing awesome coats in all his offsprings. Health Testing: HIPS/ ELBOWS: prelim Good, CERF/ Normal, Heart /Normal, CBC complete with Thyroid panel/ Normal, DNA Bbee Weight: 55 pounds Height: 24″ at the withers
Danmar's Fits Like a Stetson…ALAA reg. #ALAA-023242
AKA: "Stetson" RETIRED LIVING WITH HIS NEW FAMILY IN PA
Stetson is a Chocolate F1 Labradoodle
Danmar's Butkus of Marlee….ALAA reg #
AKA…."Butkus" GONE BUT NEVER FORGOTTEN

Butkus is a F1 Labradoodle bred from our Standard Poodle Bentley and our Labrador Retriever Madison. He has a beautiful cream fleece wavy and soft flowy curly coat, unusal for a F1 Doodle. He is a gentle giant. He lives with my sister in Miami FL unless breeding. Anyone that meets him wants a clone. He is very laid back and loving. His only goal in life is to get as much petting as possible. He is very playful yet is a gentleman in our home and any where he goes. He is a traffic stopper. Butkus not only produces great puppies but he likes to nurture them as well. He loves his puppies. We loan Butkus out sometimes to families that love his look but aren't sure about his size. He proves everytime, although large, he is a GENTLE GIANT in every sence of the word. Health testing: Hips fair to good, elbows good/ cardiac normal, Cerf normal, CBC complete with Thyroid T3 T4, PRA normal as per parantage.
Gabba's Have a Zesta Original…AKC registration #SR37255401
AKA: "Hoss"   RETIRED

Hoss is an exceptional AKC Yellow Labrador Retriever bred from a long line of Champion Show dogs of the English bred stature.
Baylakes' Sammy…CKC registration#
AKA…..RETIRED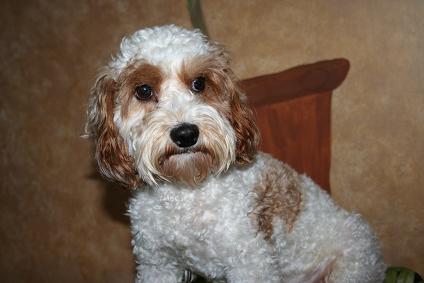 Sam is a 2nd generation Parti apricot/white Cock a Poo we obtained from Baylake Labradoodles.
Southern States I'm Your Guy… ALAA registration #
AKA….RETIRED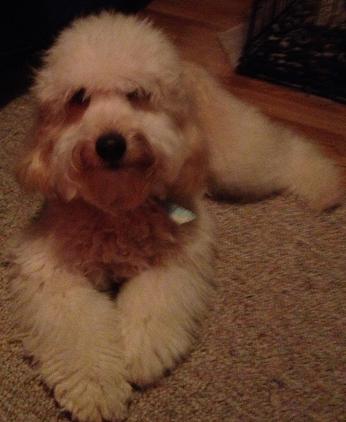 "I'm Your Guy" came to us from Southern States Australian Labradoodles LLC, in July of 2012. He is an Apricot Australian Multigen Mini with a soft curly fleece coat, non shedding and allergy friendly. He is full of spunk and never more than an few inches behind. Don't let his smallness fool you, he has a big dog personality in a small dog body. He loves to run and play as well as chase squirrels with his step sister Josie. Guy is a lap dog to whom ever will have him. He loves anything that moves. Health testing; CBC complete with Thyroid T3 T4, cariac normal, Hips/elbows exrayed, results pending, Eye Cerf pending, PRA pending
Danmar's Truman Of Charles…ALAA registration #
RETIRED

Truman is our first Parti Doodle.
Danmar's Wallace of Carley….ALAA REGISTRATION#
AKA…WALLY…(RETIRED)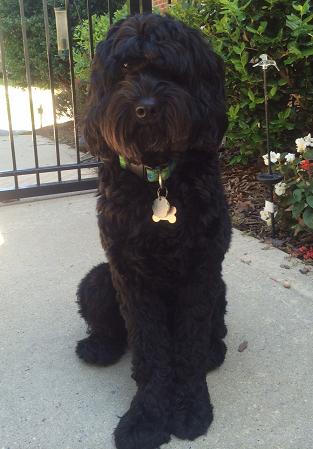 Danmar's Theodore of Charles…aka TEDDY

Teddy is an Apricot and white PARTI small medium Australian Multigen Labradoodle.  HE IS ALL HAIR!!!!!  He is a major cuddle bug and attention Hound.  He makes his presence known.  He loves his puppies and is very attentative to them more so than the mom.  He clean them, stimulates them, and can't get enough play time with them.  He has to greet everyone that comes in the house.  He so gentle with children and LOVES them.
Health clearances:  Hips/ EXCELLENT, Elbows, Pelvis NORMAL,Eye CERF Normal, Patellas and cardiac NORMAL, Super Chem Panel and Thyroid T3  T4 Normal