OUR MOMS
BAYLEE… cream small standard 50lbs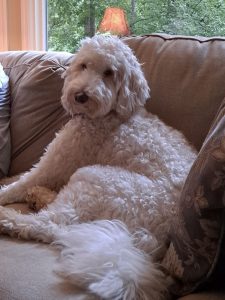 CASSIDY… caramel/whiteparti MEDIUM 35lbs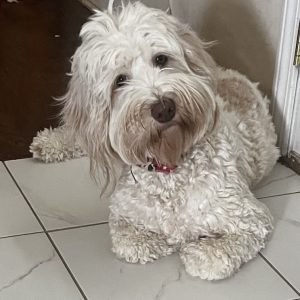 LACEY… black/redphantom.. MINIATURE 18lbs
LILO… chocolate/white parti.. MEDIUM 35 lbs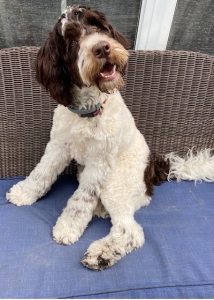 ANNIE LEE BLU…. chocolate…. LARGE MEDIUM 38-40 lbs
ELLIE MAE…black/white parti..MINIATURE 20 lbs
ANASTASIA...chocolate/white parti…MEDIUM 35lbs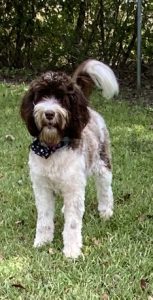 ___________________________________________________________________________
OUR RETIRED GIRLS…..
Danmar's Gabrielle…ALAA registration #: ALAA-017239
AKA…"Gabby"  RETIRED

Gabrielle is a ALF2. She is bred from our Red Poodle Penney and Southern Charm's Scout. She is a perfect medium size at 35 lbs. and 18″with a gorgeous Apricot Fleece coat. She loves loves loves any attention she gets from anyone. She loves to fetch, play and run as well as just relaxing next to us. She's very comical and extemeley compliant. She loves everything that moves and is our social butterfly. Health testing: Hips/elbows Good, eye Cerf Normal, PRA cleared by parantage, Cardiac and Petellaes CBC complete with Thyroid/ Tgaa
Danmar's Madam Britalia…ALAA registration #: ALAA-010580
AKA…"Britney"  RETIRED

Britney is our beautiful F1 CREAM, curly fleece coated Labradoodle bred from our Poodle Stetson and our now retired Lab Madison. Her coat is rare for a F1 Labradoodle, it is non shedding and hypo-allergenic. (she is a sister to our stud Butkus) She is very playful and is one of my "3" shadows. Britney is loving, gentle and can't seem to get close enough to everyone she meets. Britney has the poise of a poodle and the goofiness of the Lab. Health Testing: Hips/elbows good…Cerf Normal…PRA cleared by parentage…Petellaes…Cardiac…CBC complete with Thyroid
Weight is 58 pounds and 20″
Danmar's La Bella Contessa..ALAA registration#:ALAA-006773P
AKA…."Tess" RETIRED
Tess has a very impressive pedigree. She comes from a long line of Champion Show Poodles. She is a very rich chocolate, small Standard Poodle, (Moyen in size but Standard by blood) with perfect conformation. She has a great temperament and a fun loving personality. She fits right in with our Labs. She loves to retrieve and loves going to the beach. Tess is both AKC and ALAA registered. Health Testing: Hips/elbows prelim excellent, CERF Normal, CBC complete with thyroid panel clear, Petellas Normal, Heart Normal, DNA bbEe. Weight 38 pounds and 18″ at the withers.
aAprinas Palmeras Seven on Red..ALAA registration#:ALAA-010306P
AKA:" Money Penney"….(Penney) RETIRED
Penney is a beautiful Red Standard Poodle. She has all the poise and grace of a Champion Show Poodle. Although she loves to play, she is most content just laying by my side and being loved on. She is deffinitely the pampered pooch in the bunch. Extremely compliant and wants nothing but to please. She loves going on car rides and rides so well sometimes we forget we've brought her along. She is very nurturing and loves to take care of everyones puppies as if they were her own. Health testing: OFA hips/elbows Good, PennHIP L.36 R.36, ,CERF normal, Patellas Normal, Heart Normal, CBC complete with Thyroid panel Normal. DNA BBee 20″ at the withers and 38 pounds.
The Doodle House's Samantha…ALAA registration #: ALAA-010902
AKA:"Samantha" RETIRED
Samantha is a F1B (Poodle dad and F1 Labradoodle mom). She came to us by way of The Doodle House and fit right in from day one. She has a rich chocolate wool coat, non shedding and hypo-allergenic. Samantha has a very laid back quiet temperament but is also very playful. She is very gentle with children of all ages and will sit for hours content in just being loved on. Health Testing: hips/elbows…eye Cerf…Normal, PRA carrier…petellaes normal…cardiac.  20″ at the withers
Weight is 50 pounds
Danmar's Mikayla….ALAA registration #:
AKA: Mickey D     RETIRED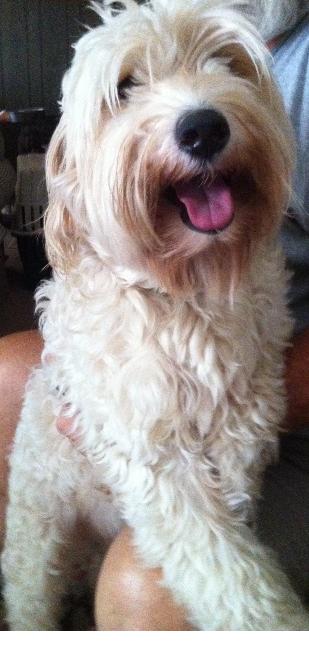 Mikayla is an Australian Multigen out of our Gabrielle and Tuscan Ridge's Philosopher. She has the cutest expressions and keeps us laughing. She looks at us as if to say….who me??? She is very playful and a major hug a bug. She loves to cuddle and is the first to greet us every morning and upon our return from anywhere, even if we were just outside. She makes us forget any issue we may have. She loves everyone and especially children.
health testing: Hips/elbows, Cerf, cardiac, Petellas, complete CBC with Thyroid
Mikayla is cream/apricot wavy fleece coat small medium. Weight: 28 pounds and 18″
Danmar's Josie…ALAA registration#
AKA "JoJo"   RETIRED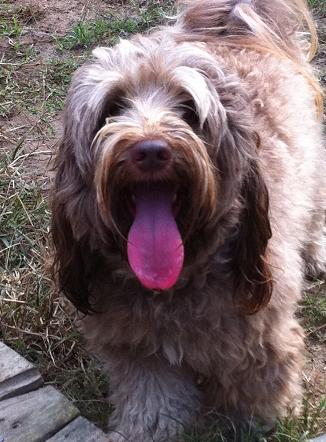 Josie is a 4th generation Multigen bred from our Chocolate Girl Tess and Doo South's Noah. She is my shadow. She loves to run and play and chase squirrals. She is very compliant and very well mannered. Josie likes being the center of attention and can never get enough. She is a small medium at 17″ tall and 24 pounds. She has a BIG DOG temperament in a small small dog body Health testing: Hips/elbows, Cerf, Petellas, CBC Complete with Thyroid
Danmar's Sasha…ALAA registration# RETIRED

Sasha is a mini Australian Labradoodle out of our Gabrielle and Dare to Dreams Cooper. Cooper is a PartiDoodle so Sasha is Parti Factored. She lives in a guardian home in Fort Mills NC with a family of 6 children. She is extremely social and the first to initiate play and a game of chase. She is very attentative to the children as well as affectionate especially to baby in the house. Her family says they could not ask for a better temperament even when wrestling with their special needs child. We are looking forward to using her in our 2014 breeding program. Health testing: Hips/elboows GOOD, CERF NORMAL, CBC complete with Thyroid T-3, T-4, Cardiac Clear, Patellas NORMAL….sasha is now owned by Barbara Hylland of daniel's doodles.

DANMAR'S SWEET MAGNOLIA…AKA MAGGIE  RETIRED

Maggie is a black and white Parti MINI Australian Multigen Labradoodle created from our own lines.  She is a Big dog in a small pkg.  Loves to run and play and keeps us laughing.  She is our comedian.  Although a mini she fears nothing.  She loves all our other dogs and keeps up with them.
Health clearances…Hips/elbows OFA NORMAL, Eye CERF NORMAL, Complete CBC chem Panel with Thyroid T3  T4.  Patellas and cardiac Normal
DANMAR'S ANNABELLE….AKA BELLE  RETIRED

Belle is a PHANTOM MINI Australian Multigen Labradoodle.  She has a silky soft fleece combination coat, curlt/wavy.  She is our fireball.  Just wants to play play play.  She loves the outside and always looking for something to fetch.  She is a major couch potato as well and loves to cuddle.  She is one of our meet and greet doggies.
Health clearances:  Hips/elbows OFA good, eye CERF NORMAL, Patellas and cardiac normal, super chem panel with Thyroid T3  T4
DANMAR'S CLEMENTINE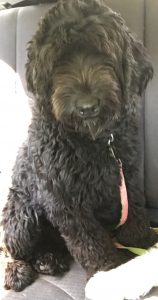 Clemintine is a black Parti Factored F2 Large Medium/Small Standard Labradoodle..both American and Australian Lines with a fleece coat that feels like velvet.  She is a very laid back Labradoodle but also has a very high play drive when out doors. She sleeps in my daughters bed and is a major cuddle bug.  VERY intelligent and one of our Therapy dogs.  she cant get enough petting from the seniors at the Nursing homes.
Health Clearances:  Hips/elbows GOOD, Eye CERF NORMAL, Super Chem Panel and T3 T4.  Cardiac normal
Danmar's Sadie Lady…ALAA registration #ALAA-023244
AKA: "Sadie" Retired…. and living in Naples FL with her 2 legged family and another Danmar Labradoodle; Scout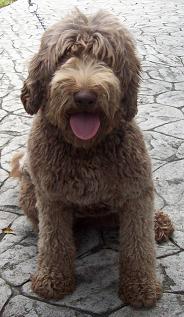 Sadie is a F2 Labradoodle bred from our own Samantha (F1B) and Stetson (F1). She has a rich velvety, chocolate, Curly Fleece coat and looks alot like her daddy. She is very calm yet outgoing and inquisitive. She loves attention and loves getting as much love as she dishes out. She is a small standard in height but has more of the medium frame. She is 20″ tall and weighs 42 pounds. Sadie lives with her guardian family in Naples FL as well as Scout, another one of our Labradoodles. Health testing: Hips/elbows, CERF, PRA, cardiac and Petellaes, CBC complete with Thyroid/ Tgaa
Contact us today for more information.